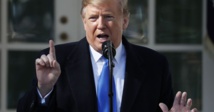 "We are looking at it, we will see what we do," he said, before repeating his allegation that the problems with Turkey stem from the Obama administration and bemoaning the "very, very difficult situation."
Under a US law known as CAATSA, the executive branch must consider whether to impose sanctions - and at what severity - on Ankara for purchasing the Russian system.
While lawmakers have been urging the president to take action, Trump has at times sounded sympathetic to Turkey.
On Wednesday, the White House formally announced it was removing Turkey from the F-35 advance fighter jet programme over the S-400, effectively making it impossible for Ankara to buy the aircraft or participate further in its production.
Turkey had planned to buy 100 F-35s, making it one of the largest purchasers, and was also involved in production of components. The Pentagon said the wind-down, to be completed next year, could cost Turkey some 9 billion dollars in orders over the life of the project.
The US says the S-400 poses significant risks to the F-35, its prized fifth generation stealth plane, and has been warning Turkey off the plan to buy the Russian equipment, to no avail.
A Russian state defence manufacturer subsequently said Russia would be ready to supply the Su-35 fighter jet to Turkey instead, though such a purchase would likely further complicate the already strained relationship between Ankara and Washington.
"If our Turkish colleagues express the desire, we are ready to work on supplies of the Su-35," the head of Russian manufacturer Rostec, Sergei Chemezov, said in comments carried by Russian state news agency TASS.
The Turkish foreign ministry said the US decision to kick Turkey out of the F-35 programme was regrettable and asked Washington to reconsider, saying the move could cause irreparable damage to relations.
Turkey started receiving initial shipments of the Russian system last week. It remains unclear when the S-400 will be fully operational in Turkey.
Relations between the US and Turkey, both NATO allies, have been strained for years, over a wide range of issues, highlighting divergences in their priorities. Iran, Syria, Russia and other factors have figured into the widening gap between the countries.
Economic sanctions on Turkey could bite, especially given the country's economic downturn.
Turkey says it needs the S-400 for its legitimate security needs, while the US counters that it offered Turkey the Raytheon-made Patriot system and frets over Ankara growing closer to Moscow.