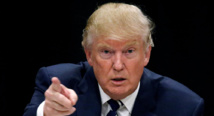 Tweeting 100 days before the US midterm elections in November, Trump said he would be "willing to shut down government if the Democrats do not give us the votes for Border Security."
A shutdown could occur if Congress and the president do not agree on the allocation of funds for the new fiscal year starting October 1 before that date.
Shutdowns see the closure of government agencies that are not essential to day-to-day operations.
The federal government shut down for two brief periods early this year over a failed deal for young undocumented migrants brought to the country as children and over a funding bill.
Trump is demanding that Congress grant billions of dollars to build a wall on the US-Mexico border.
He also wants changes or the outright elimination of certain immigration policies, including the visa lottery and a policy under which people caught crossing the border illegally are released until their cases are heard by a court.
Trump said on Twitter the US should "finally go to system of Immigration based on MERIT! We need great people coming into our Country!"
US midterm elections will be held November 6. All 435 seats in the House of Representatives and one-third of the 100 seats in the Senate are up for grabs.