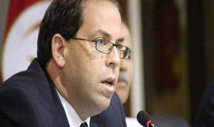 The move, announced late Friday, comes as Nidaa Tounes and other parties are calling for the dismissal of the government over its failure to solve the economic crisis and contain social tension.
The call is supported by the powerful Tunisian General Labour Union (UGTT), which has rejected economic reforms proposed by the prime minister.
But the Islamist Ennahda Party opposes the calls for dismissing Chahed, insisting on keeping him in his position in order to maintain stability until the country's 2019 election.
Tension has also erupted between Chahed and the president's son, Hafedh Caid Essebsi, the leader of Nidaa Tounes, who has also called for the premier's dismissal.
In July, Tunisian President Beji Caid Essebsi called on Chahed to step down or seek a confidence vote amid a political crisis in the North African country over the proposed economic reforms.
Tunisia is widely seen as the sole democratic success story of the 2010-11 Arab Spring uprisings.
The country has been in the grip of an economic slowdown, resulting from the unrest that followed the revolt against long-time dictator Zine El Abidine Ben Ali and ensuing attacks by insurgents.