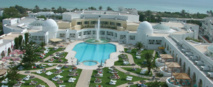 a hotel in the coastal city of Sousse.
In March 2015, 21 tourists and a Tunisian police officer were killed when gunmen attacked the Bardo National Museum in the capital, Tunis. Three months later, 38 tourists, mostly Britons, were killed in an attack at a hotel in the coastal city of Sousse.
The Islamic State militant group claimed responsibility for both attacks.
The Court of the First Sentence based in Tunis handed down some of the defendants double life sentences on charges of premeditated murder and involvement in attacks aimed at overthrowing the government, a spokesman for the court, Sofiene Selliti, told TAP.
The court also issued varying jail terms to co-defendants and acquitted 27 others in the same case.
The public prosecution appealed the verdicts, according to Selliti.
Defence lawyer Abdel-Nasser El Mehri criticized the rulings, saying that "none of the defendants directly participated in the attacks. Some of them provided logistical support. But many of the detained defendants faced fabricated charges."
El Mehri, a lawyer for two convicts, said he would also appeal their verdicts.
In recent years, Tunisia has seen a series of attacks targeting its tourism industry. The Islamic State extremist group claimed responsibility for most of the attacks.