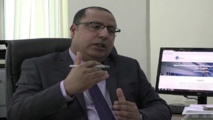 Hichem Mechichi,
Hichem Mechichi, a 46-year-old independent politician, was appointed to the interior minister post when parliament approved the Fakhfakh government in February.
He has one month to form a new government, which then needs to be approved by parliament with a simple majority.
Mechichi's name was not among the those proposed to the president by parties and parliamentary groups.
Fakhfakh resigned as prime minister on July 15, after a row with the Islamist Ennahda Party and parliamentary pressure to oust him over allegations of a conflict of interest.
He was said to own shares in private companies that have been given public contracts in recent months.
Tunisia, the birthplace of the Arab Spring revolts, is widely seen as the sole democratic success story of the 2010-11 uprisings.
Despite democratic reforms being introduced since then, the country is still struggling with great economic difficulties and civil unrest.