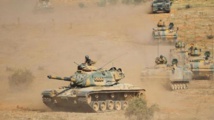 By Ergin Hava and Weedah Hamzah, dpa
Istanbul/Beirut (dpa) – The Turkish army said late Tuesday that 260 "members of terrorist organizations" had been "neutralized" in its military offensive against a Kurdish-held enclave in northern Syria.
Ankara normally uses the term "neutralize" to refer to killings, but it could also refer to injured or captured fighters.
Turkish troops and allied Free Syrian Army fighters are currently engaged in an offensive in Afrin, an area controlled by the US-backed Kurdish People's Protection Units (YPG). The move began on Saturday, opening up a new front in Syria's seven-year civil war.
Ankara views the YPG as a threat because of its ties to the Kurdistan Workers' Party (PKK), a group fighting for greater autonomy for Turkey's sizeable Kurdish minority.
Also on Tuesday, Turkish Foreign Minister Mevlut Cavusoglu warned his US counterpart Rex Tillerson that the current offensive could spill over into the neighbouring town of Manbij, a move that would mean confrontation between the two NATO allies.
The US has troops stationed in Manbij and separately trained Kurdish militias there, also providing them with arms in the fight against Islamic State extremists.
"The terrorists in Manbij are constantly shooting harassing fire. If the US cannot stop this, we will," Cavusoglu was quoted as saying by local daily newspaper Haberturk.
Cavusoglu said that in a recent phone call he asked Tillerson not to be a mouthpiece for the YPG, adding that the US should not "side with the terrorists," but back its ally Ankara.
"If you do not stand by us, do not stand in our way," he was quoted as saying by Haberturk.
Anadolu news agency also reported that US President Donald Trump has requested a phone call with Turkish President Recep Tayyip Erdogan for this Wednesday.
"The operation is proceeding successfully as planned," a statement from the Turkish presidency said following a security meeting chaired by Erdogan.
"We are going to win by reaching victory," Erdogan said in Ankara, where he attended the funeral of a soldier who was killed on Monday.
Meanwhile, Kurdish groups in north-eastern Syria on Monday urged mobilization to confront the Turkish offensive.
"We call on our people to mobilize their ranks and fight for Afrin and its people," a statement by the Kurdish-led administration in north-east Syria said.
The Britain-based Syrian Observatory for Human Rights said more than 100 people have been killed so far in the fighting, among them 23 civilians, 43 Turkey-backed fighters and 38 Kurdish fighters. The United Nations on Tuesday also voiced concern.
"Fighting has placed thousands of civilians in Afrin in north-western Aleppo governorate at risk of death and injury," Linda Tom, spokeswoman for the United Nations office for the Coordination of Humanitarian Affairs (OCHA) in Syria, told dpa.
"Many of those living in the area have already been displaced, and are at risk of further displacement," she added.
A member of Afrin's local council, Suleiman Jafaar, vowed on Tuesday that the people will remain to fight.
"There are fierce battles all over Afrin region today and the people of Afrin have no choice but to fight and confront this aggression," said Jafaar.