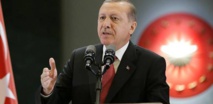 Foreign Minister Mevlut Cavusoglu said EU leaders would have meetings with Turkish officials on the margins of the May 24-25 NATO summit in Brussels, which is also the home of the EU headquarters.
He did not specify who would take part in the talks. Erdogan has confirmed he is attending the NATO summit.
"Later, there will be a big summit, a Turkey-EU summit. The timing will be clear after the talks on the NATO margins," Cavusoglu told the A Haber broadcaster.
German Chancellor Angela Merkel said last month that EU President Donald Tusk and European Commission President Jean-Claude Juncker wanted to meet Erdogan on the margins of the NATO summit.
Relations between the bloc and Ankara plunged last year after a failed coup attempt in July, and worsened further during the campaign for the April 16 referendum on strengthening Erdogan's powers.
Earlier Tuesday, Erdogan told Brussels it had no other "option" than to open so-called chapters -- policy areas -- in Turkey's long-stalled accession talks which began in 2005.
Cavusoglu insisted that Turkey was not seeking to become an adversary to the EU.
"Why would we become enemies without rhyme or reason, or have problems with European values that are also our own? Democracy, human rights, freedoms cannot be monopolised," he said.
But he hit back: "The only problem is the EU's approach."​
Sixteen policy chapters have been opened out of a total of 35 since the negotiations began in October 2005, but Ankara's bid to be a part of the bloc dates back to the 1960s.