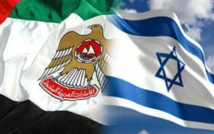 The UAE acted for "its own narrow interests" to support a "stillborn and invalid US plan," it added.
"That was a strategic stupidity that will ultimately only strengthen the anti-Israeli resistance front," the Iranian Foreign Ministry said in a press release on Friday.
The government in Abu Dhabi had deceived the Palestinian people with this "shameful, illegitimate and at the same time dangerous" decision to establish full diplomatic ties with Israel.
"The Palestinians will never forgive this agreement with the criminal regime of Israel," the ISNA news agency cited the ministry as saying.
The deal, orchestrated by US President Donald Trump's administration, makes the UAE the first Arab country in nearly 26 years to recognize the majority-Jewish state.
The Palestinians slammed the announcement and recalled their ambassador to the UAE.
Following the deal, Israel suspended its push to extend sovereignty over parts of the occupied West Bank.
Ankara further criticized the UAE for undermining peace talks in the Middle East and added the UAE has "no authority" to negotiate with Israel in the name of Palestinians.
"Surely, the defeat of those who betrayed the Palestinian people and cause will go down in history," President Recep Tayyip Erdogan's spokesman Ibrahim Kalin tweeted.
The majority of countries in the Middle East maintain a boycott of Israel since the country was founded in 1948.
Since the Islamic Revolution of 1979, Iran has not recognized the sovereignty of the Israeli state. Tehran regards the country as its arch-enemy and has threatened the destruction of Israel several times. Relations with the UAE are also strained after the attack by Iranian protesters on the Saudi embassy in Tehran in 2016.
Reactions from European countries were more positive.
France welcomed the deal, saying that both countries were "essential partners for it in the region."
Israel's planned annexation of parts of the Palestinian West Bank, suspended as part of the deal, should be permanently cancelled, French Foreign Minister Jean-Yves Le Drian said.
The "new atmosphere" created by the announcements should lead to a resumption of talks between Israel and the Palestinians aimed at a two-state settlement, Le Drian added.
Sweden welcomed the deal as a possible step for talks between Israeli and Palestinian leaders.
"Welcome step. Hope opportunity for meaningful negotiations between Israel and Palestine leading to a 2-state solution. And that annexation now shelved," Swedish Foreign Minister Ann Linde wrote on Twitter.
Sweden in 2014 recognized the state of Palestine, a move that soured relations with Israel.
In her tweet, Linde also posted a link to a statement issued by UN Secretary General Antonio Guterres where he stated his hope for "Israeli and Palestinian leaders to re-engage in meaningful negotiations," following the agreement between Israel and the UAE.