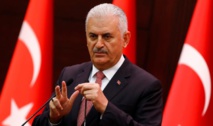 Cyprus has been divided since 1974 when Turkish troops invaded the island's northern third in response to an Athens-inspired coup seeking union with Greece.
The reunification talks between the Greek Cypriot and Turkish Cypriot leaders collapsed last month in a row over Greek Cypriot schools marking the anniversary of a 1950 referendum in support of union with Greece.
"The Greek side is unfortunately continuing to adopt an aggressive attitude by ignoring the sensitive points," of the Turkish Republic of Northern Cyprus, Yildirim said during a visit to northern Cyprus.
The TRNC, where Ankara still has tens of thousands of troops deployed, is a breakaway administration set up after the island's division and only recognised by Turkey.
Last month, TRNC head Mustafa Akinci suspended his participation in the talks in protest at the Greek Cypriot parliament's approval of a law on marking the referendum on "Enosis" or union with Greece.
The climate of trust has since deteriorated with each side blaming the other over the stalled process.
"It is clear that this attitude... will not advance the negotiations process," Yildirim said at a news conference in north Nicosia with Akinci at his side.
Greek Cypriot leader Nicos Anastasiades, who is president of EU member state Cyprus, has said he believes the negotiations will remain stalled until after Turkey's April 16 referendum on presidential powers.
UN envoy Espen Barth Eide has said he was confidant the impasse in reunification talks would be overcome.