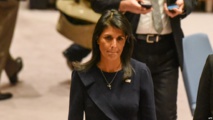 US President Donald Trump announced his country's recognition of Jerusalem as Israel's capital on December 6 and said he would move the embassy to the contested city, sparking anger from Arabs and Muslims. The move was also rejected by Europe.
The US this week vetoed a resolution in the UN Security Council (UNSC) condemning any moves to change the status of Jerusalem, leaving Washington isolated diplomatically on the issue.
Turkey and Yemen have pushed for a rare emergency session on Thursday to vote on the resolution in the 193-member General Assembly, where it requires a two-thirds majority to pass, and is more likely to be approved. Such resolutions generally have less weight than UNSC resolutions however.
US ambassador to the UN Nikki Haley posted on Twitter: "The US will be taking names" of those who vote against her country.
In a more detailed letter to diplomats at the UN, Haley wrote that Trump and the US "take this vote personally."
In the letter seen by dpa, Haley told diplomats that "the president's announcement did not prejudge final status negotiations in any way" and asked countries to "respect our decision about our own embassy."
"To be clear, we are not asking that other countries move their embassies to Jerusalem, though we think it would be appropriate," Haley wrote.
"The president will be watching this vote carefully and has requested I report back on those countries who voted against us. We will take note of each and every vote on this issue," Haley warned.
The letter was distributed "to threaten countries, threaten their sovereign decision," al-Maliki told reporters in Istanbul.
"Tomorrow we will see how many countries will vote with their conscience and vote for justice," al-Maliki added, speaking alongside his Turkish counterpart Mevlut Cavusolgu.
The Turkish minister also warned that the US "must not threaten countries" adding: "No proud nation, no honourable state would bow to this kind of pressure."