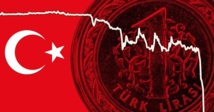 The central bank outlined a series of steps to inject "all the liquidity the banks need" as the lira fell to a record low on Asian markets, at times trading at more than 7 liras to the dollar and more than 8 liras to the euro.
The currency's free fall was a continuation of Friday's plunge of more than 20 per cent against the dollar when US President Donald Trump announced he was doubling tariffs on Turkish steel and aluminium.
Tensions between Ankara and Washington have grown over Turkey's detention of US pastor Andrew Brunson, who is being tried on espionage and terrorism-related charges.
The impasse has hit Turkey's lira, bonds and stock markets. The currency has lost almost 50 per cent of its value since the beginning of the year.
Erdogan has remained defiant in the face of the crisis, railing against "economic terrorists," an "economic war" and "bullies of the global system," and warned of forming new alliances with Russia and China.
He has also urged Turks to change their dollars, euros and gold to liras, while asking them to keep faith in god.
On Monday, he lashed out at the US.
"On the one side, you are a strategic partner, on the other, you shoot your strategic partner in the feet," he told a conference of ambassadors in Ankara.
"On one side, you work together in NATO, and then you attempt to shoot your strategic partner in the back. We cannot accept this," he added.
Ilter Turan, a professor of international relations at Istanbul Bilgi University, told dpa that Erdogan "believes that the US is making unfair gains and garners too much power thanks to the dollar being used as a global trade currency."
"He thinks he can challenge the US by replacing the dollar with alternative or local currencies in international trade," Turan said.
Treasury and Finance Minister Berat Albayrak, Erdogan's son-in-law, said that Turkey would be "swiftly taking the necessary measures with [its] banks and banking watchdog," without providing details.
He rejected the likelihood of a government plan to seize bank deposits or intervene in foreign exchange assets, saying suggestions that such actions were under way were "lies."
The central bank said it will cut lira and foreign currency reserve requirements for banks "to support financial stability and sustain the effective functioning of markets." Doing so frees up money for the institutions to lend.
Its action will inject as much as 10 billion liras (1.4 billion dollars), 6 billion dollars and the equivalent of 3 billion dollars worth of gold into the financial system, it added.
Earlier Monday, the country's banking watchdog said it will limit banks' foreign exchange swap operations with foreign investors to 50 per cent of their equity, in an effort to slow down sales of liras.
"The government is aware that it is too late to fend off this crisis and it will come at a cost for the economy," Turan said. "That is why Erdogan had no other option but to stir polarization in society and mobilize his supporters in what he calls a national solidarity against an economic war."
Meanwhile, German Chancellor Angela Merkel said, "Nobody has an interest in the economic destabilization of Turkey."
"Germany definitely wants an economically prosperous Turkey. It is also in our interest," added Merkel, who is due to meet Erdogan in Berlin next month.
The US and Turkey have also been at odds over the war in Syria, Turkey's decision to buy a Russian air defence system, the conviction in New York of a former employee of Turkish state lender Halkbank for violating US sanctions and efforts to block the delivery of F-35 fighter jets to Turkey.
The rift widened over Brunson, who was detained in October 2016 and arrested in December that year in the aftermath of a failed coup. Turkey accuses Brunson of having links to the Gulen movement it blames for the failed putsch.
"NATO allies sometimes have differences, but despite that, allies have always been able to agree on the essentials: standing together and protecting one another," an alliance official said.