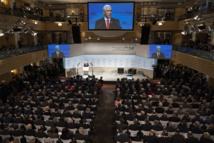 Washington -
By Ansgar Haase and Shabtai Gold
-
Turkey and the United States appeared set for a fresh showdown in their increasingly contentious relationship, as the vice presidents of both countries took public shots at each other on Wednesday, questioning their mutual commitments to their alliance.
US Vice President Mike Pence said Washington "will not stand idly by" while a NATO member buys weapons from an adversary, blasting Turkey as it edges closer to actually purchasing the S-400 air defence system from Russia
"Turkey must choose. Does it want to remain a critical partner in the most successful military alliance in history or does it want to risk the security of that partnership by making such reckless decisions that undermine that alliance," Pence said in Washington.
The two NATO allies were arguing on the eve of the military alliance's 70th anniversary celebrations in Washington.
Washington has threatened to prevent Turkey from receiving the advanced F-35 stealth jet and kick Turkey out of the development programme, among other sanctions.
Turkey's Vice President Fuat Oktay shot back in kind, saying on Twitter that the "United States must choose" if it wants to remain allied with Ankara.
He raised a lingering point of contention over US support for Kurdish militants in Syria, accusing Washington of "joining forces with terrorists."
Washington partnered with a Kurdish-led militia to defeat Islamic State in Syria. However, Turkey views that militia as linked to Turkish-Kurdish insurgents on its own territory.
Earlier, Turkish Foreign Minister Mevlut Cavusoglu said Ankara would not step back from its deal to buy the S-400 from Russia. The agreement with Moscow was a "done deal," he said.
The Pentagon this week stopped the delivery of F-35-related materials to Turkey and announced it was developing alternatives in case Ankara was removed from the supply chain of the advanced jet's production.
Pence said that being kicked out of the F-35 programme "will harm not just Turkey's defence capacity, but it may cripple many of the Turkish component manufacturers that supply that programme."
Cavusoglu was scheduled to meet US Secretary of State Mike Pompeo for a one-on-one discussion during his time in Washington.
Cavusoglu said that Turkey could not be forced to choose between the West and Russia, warning that the example of the conflict in Ukraine has shown where such things could lead.
Turkey has been growing closer to Russia over the past two years, including deepening a partnership over Syria and opening up energy projects, such as a gas pipeline and a nuclear plant.
Last week, a bipartisan group of senators introduced legislation which would block the transfer of the F-35 to Turkey unless it is certified that Ankara will not buy the Russian system, signalling opposition also on Capitol Hill.
In 2017, both countries stopped issuing visas to each other's citizens. The US initiated the measure after Turkey arrested its consular staff. It took several months for the ban to be rescinded.
Last year, the US sanctioned two Turkish ministers after a US pastor was arrested and held in Turkey, and Ankara responded by sanctioning two members of Trump's cabinet. The pastor was later released and the measures reversed.
Notepad