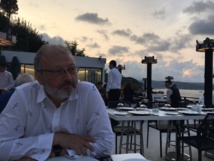 Khashoggi's friend, who wished to remain anonymous, told dpa that the killing had been confirmed by Turkish police and that his body was cut into pieces. There was no immediate official corroboration of his account.
"The news you are seeing is true. Police have told us that he was killed inside the consulate... they cut him up into small pieces," his friend said.
He added that Turkish authorities were expected to announce the details surrounding the death later on Sunday.
The Washington Post, for whose Global Opinions section Khashoggi wrote, reported that he was killed in the consulate in Istanbul by a Saudi team sent "specifically for the murder."
The report, citing anonymous sources, said that Turkish investigators believe a 15-member team came from Saudi Arabia.
Saudi Arabia has always claimed that Khashoggi left the premises and then went missing, while Turkey has insisted he was still inside.
Khashoggi, who was at the consulate to attend to some formalities related to his marriage, has been critical of influential Saudi crown prince Mohammed bin Salman and a crackdown on opponents at home.
In an interview with Bloomberg late Wednesday, which was released on Saturday, the crown prince said that Khashoggi was not inside the consulate.
"We are ready to welcome the Turkish government to go and search our premises. The premises are sovereign territory, but we will allow them to enter and search and do whatever they want to do... We have nothing to hide," he said.
The 32-year-old heir apparent is believed to have championed Saudi Arabia's bold reforms including the lifting of a decades-old ban on women's driving.
However, Saudi authorities have recently arrested several leading activists, a clampdown that has raised questions over reforms there and drawn criticism from global rights groups.
Rights group Amnesty International tweeted: "Disturbing news about Jamal Khashoggi. The situation 'sends a petrifying signal to peaceful dissidents and critics that they are at risk even outside [Saudi Arabia], & the authorities are targeting them one by one wherever they can do so."
Khashoggi has lived in self-imposed exile in the US since last year "over concerns that he would be arrested or prevented from travelling" by Saudi Arabia, the Post said.
Saudi Arabia's ambassador was summoned to Turkey's Foreign Ministry on Thursday over the disappearance.
Turkish President Recep Tayyip Erdogan's spokesman had Wednesday confirmed that he was aware of the case and that Khashoggi's fiancee had contacted Turkish authorities.
"This person, who is a Saudi citizen, is still at the Saudi Arabian consulate in Istanbul," the spokesman said Wednesday. "We don't have any information to the contrary."
The spokesman said he hoped the matter would be resolved with ease because a situation like this has international legal implications.
Ties between Saudi Arabia and Turkey have been strained since mid-2017 when Ankara sided with Qatar after a Saudi-led bloc boycotted the tiny Gulf emirate over its alleged support for radical groups.