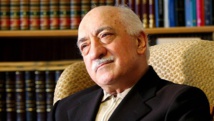 Turkey had issued an arrest warrant for the teacher, identified as Mehmet Gelen, for being a "member of an armed terrorist organization," the report said.
Gelen was earlier detained while trying to enter Belarus with a "fake passport" and was deported to Azerbaijan, Anadolu said, without giving further details
Ankara blames Gulen and his movement for the failed 2016 coup attempt by a faction in the military. It also considers Gulen's movement to be a terrorist organization.
Once an ally of Turkish President Recep Tayyip Erdogan, now in self-imposed exile in the United States, Gulen denies the allegations.
Since the attempted coup in 2016, Turkey has been detaining suspected supporters of Gulen, both those captured at home and abroad.
Turkish nationals have been captured and brought back to Turkey from Ukraine, Kosovo, Gabon, Pakistan and Afghanistan.