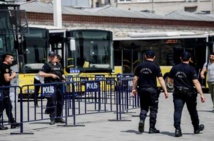 The police carried simultaneous raids in 14 separate provinces, netting 124 suspects with alleged ties to the Sunni extremist group on Thursday and another 77 on Friday, state-run Anadolu news agency reported.
The suspects included foreign nationals, according to Anadolu. Police seized documents and digital material that revealed plans for separate attacks on New Year's Eve, according to the report.
The raids come nearly a year after an Islamic State gunman attacked the Reina nightclub in Istanbul as revellers were celebrating New Year's Eve, killing 39 people.
The Reina shooting preceded a wave of smaller attacks by Islamic State and hardline Kurdish nationalists in Turkey in 2015 and 2016.
On Wednesday, security forces in Istanbul cited security concerns in issuing a ban on New Year's Eve celebrations in three central districts, including the iconic Taksim Square, Anadolu reported.
Turkey, a predominantly Muslim country, celebrates January 1 as a public holiday. Trees and ornaments appear in public displays to mark the occasion, but Islamists have pushed back against them as symbols of Christmas.