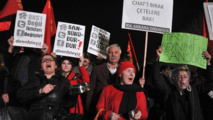 In keeping with warnings by other groups, including the International Monetary Fund, the ratings agency warned the economy is being pushed into overdrive. A state of emergency in place since a failed coup in 2016 also sparked concern.
"There is a risk of a hard landing for Turkey's overheating, credit-fueled economy," S&P said in a statement late Tuesday.
Economist Timothy Ash said the move was not surprising, noting S&P has been bearish on Turkey for some time and questioned whether underlying fundamentals justified the decision. The rating is worse than that given by either Moody's and Fitch, which have also categorized Turkey's debt as junk, though still at a higher level than the new one from S&P.
The IMF recently warned that "the economy is showing clear signs of overheating," while warning that "monetary policy appears too loose and its credibility is low."
Turkey's central bank raised rates last week, helping to support the lira, one of the worst performing emerging market currencies.
But analysts still question if the move was too little and whether there is appetite for more increases in Ankara, as President Recep Tayyip Erdogan is strongly opposed to raising lending rates.
Inflation is stuck in double digits and the current account deficit is widening, in part owing to government-backed plans to boost the economy.
Last year, Turkey's gross domestic product expanded by 7 per cent, one of the fastest growth rates in the world.
The government this week announced new measures ahead of the election, including a plan to hand out cash to retirees next month along with a programme to offer some amnesties and restructuring deals for tax debts. Pensions are to be doubled.
For its part, the government argues that the state of emergency only has a negative impact on terrorists and as such should not deter investors.