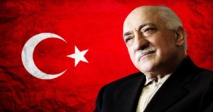 Fethullah Gulen
The suspects being sought in raids conducted in 16 provinces, including the national capital Ankara, also included current and former police officers, the report said.
Turkey blames US-based Islamic cleric Fethullah Gulen for a coup attempt on July 15, 2016, and also accuses him of a decades-long campaign to infiltrate state institutions.
Gulen denies any involvement in the failed coup, which was launched by a faction in the military. Four years later, the authorities continue to regularly target those with suspected links to Gulen, a former ally of President Recep Tayyip Erdogan.