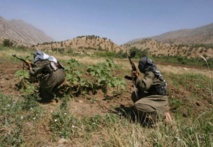 Top Turkish officials, including President Recep Tayyip Erdogan, said earlier this week that the remote Qandil mountain range in Iraq - where the PKK is headquartered - could be the target of military operations.
The overnight strikes hit the area of Qandil among five other locations, the armed forces said on Twitter. Six PKK members were killed and 16 targets were destroyed, they said.
According to state news agency Anadolu, Erdogan said late Tuesday: "Now it's Qandil's and Sinjar's turn." Sinjar was the site of Islamic State massacres of the Yezidi religious minority in Iraq before Kurdish forces ousted the extremists.
Interior Minister Suleyman Soylu said Monday that an operation in Qandil was only a matter of time.
"Qandil is no longer a distant goal for us," Soylu said. "The question is not the operation, but the timing. Qandil will be made a safe place for Turkey. Nobody should doubt that."
The PKK is considered a terrorist organization by Turkey, the United States and the European Union.
Turkey's presidential and parliamentary elections on June 24 will complete the country's shift to a presidential system - a move pushed through by President Recep Tayyip Erdogan.