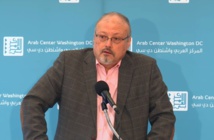 The 59-year-old journalist, who is a sharp critic of influential Saudi Crown Prince Mohammad bin Salman, had entered the Saudi consulate building in Istanbul to get paperwork so that he could marry his Turkish fiancee.
Saudi Arabia says Khashoggi left the premises before he went missing, while Turkey initially insisted he was still on the consulate grounds.
But Turkish presidential advisor Yasin Aktay walked back that assumption on Sunday, saying that "anything is possible."
"We no longer believe that he is still inside," he told dpa, citing street CCTV footage that appeared to show cars with heavily tinted windows leaving the consulate grounds.
Khashoggi could have been inside, Aktay said. "There is actually no other possibility left."
In remarks to broadcaster CNN Turk earlier on Sunday, the advisor to Turkish President Recep Tayyip Erdogan said that Khashoggi did not leave the consulate building in "normal ways."
The Turkish police were investigating in all directions and Erdogan was following the case "very closely," Aktay said.
Khashoggi wrote for The Washington Post, which reported that he was killed in the consulate in Istanbul by a Saudi team sent "specifically for the murder."
The report, citing anonymous sources, said that Turkish investigators believe a 15-member team came from Saudi Arabia.
Late Saturday, a close friend to Khashoggi told dpa that he was killed inside the consulate.
The friend, who wished to remain anonymous, said the killing had been confirmed by Turkish police and that his body was cut into pieces. So far, there has been no official corroboration of his account.
Saudi Arabia on Sunday denied the reports, with state news agency SPA quoting an official at the consulate as saying the allegations are "baseless."
The unnamed official doubted that the allegations about Khashoggi's killing were made by Turkish officials close to the case.
The official said that a team of Saudi investigators had gone to Istanbul on Saturday to join inquiries into Khashoggi's disappearance.
Erdogan said on Sunday that he was "positive" that there would be a good outcome.
"We want to reach a fast conclusion," he told journalists, as reported by state news agency Anadolu.
In an interview with Bloomberg released on Saturday, the Saudi crown prince said that Khashoggi was not inside the consulate and that his country is ready to allow Turkish authorities into the building to search for Khashoggi.
The 33-year-old heir apparent is believed to have championed Saudi Arabia's bold reforms including the lifting of a decades-old ban on women's driving.
However, Saudi authorities have recently arrested several leading activists, a clampdown that has raised questions over reforms there and drawn criticism from global rights groups.
Khashoggi has lived in self-imposed exile in the United States since last year "over concerns that he would be arrested or prevented from travelling" by Saudi Arabia, The Washington Post said.