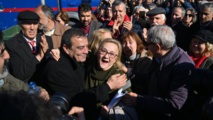 Kavala was rearrested late on Tuesday and taken to Istanbul police headquarters after a prosecutor issued a new warrant related to the 2016 failed coup attempt, the report said.
The prosecutor accuses Kavala of attempting to overthrow the constitutional order. The details of the accusation were not immediately known.
He is now expected to be produced before a judge in the next few days.
"The relief we felt has once again turned into despair," wrote Amnesty International Turkey campaigner Milena Buyum on Twitter.
"The decision to detain #OsmanKavala on different charges, this time on allegations of 'attempting to overthrow the constitutional order' smacks of a witch-hunt."
Earlier Tuesday, Kavala was released from the high-security Silivri prison in Istanbul where he spent almost two and a half years.
He was cleared of all charges, including attempting to overthrow the government during 2013 protests against then-prime minister Recep Tayyip Erdogan's development plans in Istanbul's landmark Gezi park.
Kavala was the only defendant among the 16 accused detained in prison.
Meanwhile, a verdict is expected on Wednesday in the trial of 11 human rights activists - including German national Peter Steudtner; Swedish national Ali Gharavi; and then chair of Amnesty Turkey, Taner Kilic - who face terrorism-related charges.
They were detained during a human rights training workshop in July 2017 on the island of Buyukada, off Istanbul, but are no longer in custody.
Notepad