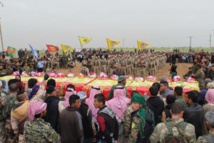 "We reject as frivolous any efforts to suggest 'dialogue,' 'contact' or 'mediation' between Turkey and those terrorist organizations," Ibrahim Kalin, a spokesman for Turkish President Recep Tayyip Erdogan, said on Twitter.

French President Emmanuel Macron made the offer after meeting with members of the US-backed Syrian Democratic Forces (SDF), the main group fighting Islamic State in Syria. The SDF is dominated by the Syrian-Kurdish YPG militia.

"Those who are in cooperation and solidarity with terror organizations against Turkey and attack Turkey together with terrorists will face the same treatment as terrorists and will become a target for Turkey, like terrorists," said Turkish Deputy Prime Minister Bekir Bozdag on Twitter.

Ankara sees the YPG as a terrorist group, charging that it is an extension of the Turkish-Kurdish Kurdistan Workers' Party (PKK), which is fighting an insurgency inside Turkey.

Turkey launched an offensive against the YPG in Afrin in January, driving the group out. More than 180,000 people from the Kurdish enclave are now displaced elsewhere in Syria, according to the UN.

The US continues to have some 2,000 forces on the ground in northern Syria with the SDF. Turkey has threatened to attack that territory as well.

"We'll be coming out of Syria very soon," US President Donald Trump said Thursday. "Let the other people take care of it now."

Trump and Macron spoke this week by phone, also discussing Syria and Turkey.
Notepad