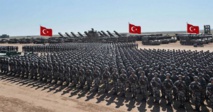 Six soldiers were wounded in "[Syrian] regime fire," the ministry said, adding the Turkish military has retaliated and continues targeting Syrian forces.
The nature of the attack was not immediately known. Turkey has lost at least 50 of its troops in Idlib in the past month.
Turkey has destroyed three Syrian jets, eight helicopters and more than 150 tanks among other military equipments since the launch of its new military operation in Syria last week, the ministry added.
Ankara is backing rebels in Idlib, who are fending off a military onslaught by the Russian-backed Syrian government.
The heavy fighting has triggered a new flow of 1 million migrants towards neighbouring Turkey, in turn prompting Ankara to open its borders to Greece and Bulgaria.
European Council President Charles Michel is visiting Ankara on Wednesday and is expected to meet President Recep Tayyip Erdogan.
Russia reiterated its claim on Wednesday that Turkey's military incursion into Syria has violated international law and specifically accused Ankara of working with terrorist groups in Idlib.
"Fortified areas of terrorists have practically merged with Turkish observation posts," Russian Defense Ministry spokesman Igor Konashenkov said in comments carried by state news agency TASS.
Erdogan and his Russian counterpart Vladimir Putin are expected to meet on Thursday in Moscow to discuss Syria.
Both sides have been accusing each other of failing to adhere to a fragile ceasefire deal between them in Idlib.