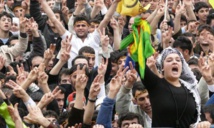 Istanbul

(dpa)

-
Turkish authorities have rescinded the passport of the co-chair of the main pro-Kurdish opposition party and banned him from leaving the country, the party said on Saturday.
Sezai Temelli was elected co-chair of the leftist Peoples' Democratic Party (HDP) this year. The previous co-chairs - the HDP always has top posts split between a man and a woman - are both in jail.
Selahattin Demirtas, a human rights lawyer and one of the jailed former co-chairs, is running for president from his jail cell, the HDP announced this week. The party called for him to be released.
Thousands of HDP members are in jail, including nine people who were elected to parliament in the last election in 2015. The government alleges the HDP is linked to the armed, outlawed Kurdistan Workers' Party (PKK). The HDP says it is independently run.
Kurds make up about 15 per cent of the country's population, and many have long complained of discrimination by the state.
The HDP managed to pass the 10 per cent electoral threshold in both elections held in 2015, and is the first pro-Kurdish party to have made it past the limit. Polling data is inconclusive as to whether it can repeat this performance in the June 24 snap election.