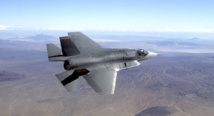 A letter from acting US Defence Secretary Patrick Shanahan to Turkish Defence Minister Hulusi Akar, sent Thursday and released Friday, outlined the steps Washington will take over the next seven weeks to remove Ankara from the programme, with the aim of ending participation by July 31.
The Defence Ministry in Ankara only acknowledged receiving the letter and described it as "covering defence and security issues between the two countries." It made no direct reference to the F-35 project.
It said in a statement that "the letter expresses the expectation of finding a solution to the existing problems within the framework of strategic partnership and maintaining the comprehensive security cooperation, and emphasizes the importance of continuing negotiations."
Turkey has been adamant on going ahead with its plans to buy the S-400 surface-to-air missile system from Russia, with President Recep Tayyip Erdogan saying as recently as Tuesday that "it was out of the question" for Ankara to step back from the deal that has triggered tensions with its NATO ally Washington.
"You still have the option to change course on the S-400," Shanahan said in his letter.
The first US step will be disinviting Turkey from an F-35 roundtable next week in Belgium. Turkish F-35 trainees will have to leave the US by the end of July.