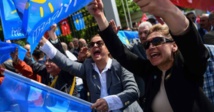 Six elected district mayors from the provinces of Diyarbakir, Van, Erzurum and Kars can not get their mandates based on a decision by the Supreme Electoral Council (YSK), the Peoples' Democratic Party (HDP) told dpa.
The elected individuals, among them teachers and sociologists, were dismissed from civil service following a failed coup in 2016 and are not entitled to public offices, according to state news agency Anadolu. They were still allowed to run for mayoral offices in March 31 local polls.
The six will be replaced by runners-up from the ruling Justice and Development Party (AKP), HDP Istanbul lawmaker Saruhan Oluc told a press event in Ankara.
Oluc dismissed the YSK decision as "an engineered political conspiracy," accusing the commission of following in suit with orders from the President Recep Tayyip Erdogan's government.
Since 2016, the government has replaced dozens of mayors from the pro-Kurdish Peoples' Democratic Party (HDP) with trustees. It says the mayors had links to the outlawed Kurdistan Workers' Party (PKK).
With the removal of the six mayoral posts, 59 municipalities remain under HDP administration, according to preliminary results.