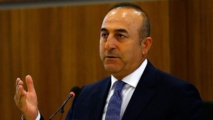 A forensics doctor is "instructing the others they should listen to music while he dismembers the body," Foreign Minister Mevlut Cavusoglu told Sueddeutsche Zeitung.
"You can tell he is enjoying it," Cavusoglu said, adding that "he likes to cut up people. It is disgusting."
Cavusoglu for the first time confirmed some of the content of the tapes, which have so far only been leaked by Turkish media.
He said he listened to the tapes of the killing in Saudi Arabia's consulate on October 2, but said the Turkish investigators would not divulge how they got the audio.
"He was killed within seven minutes. It was a premeditated murder," Cavusoglu said.
Khashoggi's remains have not yet been located.
Turkish police searched two villas in the north-western province of Yalova, near Istanbul, on Monday with sniffer dogs and drones, and drained two wells in the gardens.
Hurriyet daily reported on Tuesday that the properties belonged to "a very close friend" of Saudi Crown Prince Mohammed bin Salman.
Turkey has called for an international investigation into the murder and President Recep Tayyip Erdogan has said the order came from "the highest levels of the Saudi government."
Erdogan said Saudi King Salman played no role in the case, but Turkey has never directly blamed Mohammed. Saudi Foreign Minister Adel al-Jubeir has said the crown prince had nothing to do with the murder.
Erdogan and the crown prince will see each other for the first time since Khashoggi's killing at the G20 summit in Argentina on Friday.
"[The crown prince] asked Erdogan via phone if they could meet in Buenos Aires. Erdogan's answer was, 'Let's see'," Cavusoglu said in the interview, adding that there was "no reason" not to meet Mohammed.
Asked if he knew for sure who in Riyadh gave the order, he said: "We do not believe that the people who came to Turkey acted on their own ... They would not dare."
While adding that he couldn't say more without evidence, the minister said that "many consider [Mohammed] to be the culprit."
Riyadh has provided various versions of the crime after initially insisting that Khashoggi left the consulate alive.
On November 15, Riyadh's chief prosecutor said Khashoggi was killed by the head of a hit squad after having failed to convince him to return to Saudi Arabia.
"The crime included a fight and injecting the citizen [Khashoggi] with a drug overdose that led to his death," the prosecution spokesman said.
Riyadh indicted 11 people and is seeking the death penalty for five of them.
Cavusoglu said: "They did not decide to kill him after they could not persuade him to return."
When recently asked about a CIA assessment that Mohammed ordered Khashoggi's murder, US President Donald Trump said: "Maybe he did and maybe he didn't," as he announced his support for Riyadh.
"I don't know why Trump said that," Cavusgoglu said. "A 'maybe' is not enough for us, we have to be sure."