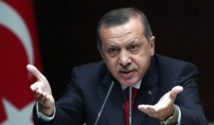 Addressing a meeting of local authorities, Erdogan slammed European nations for enabling both the outlawed Kurdistan Workers' Party (PKK) and the Gulen movement, which Turkey blames for an attempted coup in 2016. Ankara regards both to be terrorist organizations.
He said that leaders of terrorist groups like the PKK can move around freely in European cities. "We would like to warn our European friends ... those terrorists one day will direct their weapons towards you."
While the PKK is designated as a terrorist organization by the EU, the bloc doesn't help the victims of the group, Erdogan said, adding: "We cannot take them seriously."
He again condemned Tuesday's verdict by the European Court of Human Rights (ECHR), which said Turkey must release pro-Kurdish opposition politician Selahattin Demirtas, who has been held in pre-trial detention since November 2016.
"ECHR, which side are you on?" he asked, adding that no country or institution has the right to speak of democracy if it itself supports terrorism.
"This is not called support for the demand for justice and freedom, but outright terror worship, terror love," the president said.