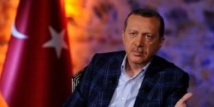 Rome -
Turkish President Recep Tayyip Erdogan is scheduled to meet Pope Francis at the Vatican on February 5, the Vatican press office said Tuesday.
No details about the agenda of the meeting were given. It would be Erdogan's first visit at the Vatican.
Turkey is a key regional player in the Middle East, so the conflict in Syria, the plight of refugees in the region and the status of Jerusalem are likely to come up in the talks.
Erdogan and the pope discussed Jerusalem - which the United States want to recognize as Israel's capital, despite widespread opposition from the international community - in a phone call in late December.
At the time, Turkey's state-run news agency Anadolu said both leaders agreed to meet to discuss bilateral relations and international issues, without giving a specific date.
Dialogue between Muslims and Christians is another possible topic for Francis and Erdogan.
Relations between Turkey and the Vatican turned frosty in June 2016, when Francis referred to the World War I mass killings of Armenians at the hands of Ottoman troops as "genocide."
Ankara, which vehemently rejects the use of the term genocide to describe the killings, reacted by accusing the pope of spreading "lies and slander."