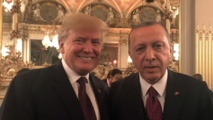 Erdogan "has very strongly informed me that he will eradicate whatever is left of ISIS in Syria... and he is a man who can do it plus, Turkey is right 'next door.' Our troops are coming home," Trump tweeted.
The post followed a phone call between the leaders, with both using social media to say US military withdrawal from Syria was discussed.
US President Donald Trump said Sunday that he spoke with his Turkish counterpart, Recep Tayyip Erdogan, to coordinate the withdrawal of US forces from Syria, as his own staff were deserting the White House in protest over Trump's policy.
Trump said that he discussed the "slow & highly coordinated pullout of U.S. troops from the area" with Erdogan in a phone call.
Erdogan said on Twitter that he and Trump had "agreed to increase our coordination on many issues, from our trade relations to developments in Syria," during the "productive" phone call.
In a later tweet, Trump said Erdogan will "eradicate" the forces of Islamic State in Syria.
Erdogan "has very strongly informed me that he will eradicate whatever is left of ISIS in Syria... and he is a man who can do it plus, Turkey is right 'next door.' Our troops are coming home," Trump wrote.
According to the Anadolu news agency, both leaders agreed to maintain military and diplomatic coordination to avoid the US withdrawal from Syria from being exploited and an authority gap in the country.
During a previous call with Erdogan, the US leader had reportedly gone against the advice of his national security staff and decided to withdraw the 2,000 troops on a whim.
US Defence Secretary Jim Mattis resigned after the announcement. His public letter was sharply critical of the president's treatment of allies and was seen as a rebuke of the president's foreign policy.
Days later, the main figure leading the war against Islamic State, Brett McGurk, also stepped down, citing "shock" among partners abroad.
Trump made snide remarks about both men on Twitter. He then decided to move up Mattis' departure date from the end of February to Janaury 1, and announced on Twitter that the deputy secretary of defence, Patrick Shanahan, will become the acting head of the Pentagon.
White House Chief of Staff Mick Mulvaney - who is the acting replacement for John Kelly, another top official who recently said he is stepping down - admitted on Fox News that Trump's plan is not popular at the Department of Defence.
US lawmakers have expressed concerns about the fate of US partners left in Syria, especially Kurdish fighters who battled against Islamic State extremists at the behest of Washington, as well as a potential vacuum after the forces depart.
Turkey has openly expressed an interest in attacking Kurdish forces in Syria, and Erdogan has previously threatened US troops who were on the ground supporting the local fighters.
French President Emmanuel Macron said Sunday that he "very deeply regrets the decision made on Syria," adding that "an ally should be dependable," in a sharp criticism of Trump.
Allies around the world have been stunned by Mattis' departure, having seen the former general as a reliable supporter of NATO and other long-standing partnerships. His team often reassured the Kurdish fighters in Syria as well.
Former US president Barack Obama launched airstrikes against Islamic State starting in 2014, after the extremist group took over large swaths of territory in Syria and Iraq.
He later also had ground troops help local forces in Syria and Iraq, who did the core fighting against the extremist groups, taking back large areas. In Syria, the backbone of the fighting force was a Kurdish leftist militia - a decision that angered Turkey.
During Trump's first year in office, forces completed the takeover of Islamic State's de-facto capitals in Syria and Iraq, al-Raqqa and Mosul.
Until Trump's announcement this week on Twitter, administration officials were talking about an extended stay in Syria, pointing to a remaining Islamic State pocket with thousands of fighters, and also expressing a desire to counter Iran and restrain Russia.
Trump's plan for the wind-down remains unarticulated.