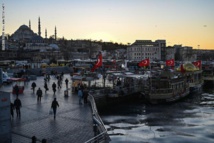 Five more people died, Health Minister Fahrettin Koca said on Twitter late Friday, raising the death toll from 359 a day ago. He said all of the nine victims so far were elderly people.
"Let us not show tolerance in our struggle [against the pandemic], not even a moment," Koca tweeted.
President Recep Tayyip Erdogan urged citizens to "not leave your homes unless absolutely necessary," in an audio message on Twitter.
"We are working day and night to minimize the virus' spread," Erdogan said, urging people to "take care of yourself and elderly or chronically ill persons around you."
Turkey, a country of 83 million, has already shut down most public spaces, halted flights to 20 countries and closed its borders with its eastern neighbours, Iran and Georgia.
Turkey announced its first positive test on March 11. The number of cases is expected to surge as testing now intensifies.