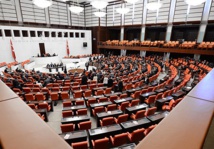 At a Republican People's PartY (CHP) conference at a sports arena in the capital, Ankara, party chief Kemal Kilicdaroglu announced Ince as the candidate, to roaring applause from attendees.
Ince removed his CHP party pin and had it replaced with a Turkish flag, as he promised to be a candidate for all citizens, regardless of ethnicity or religion.
As he walked into the building, Ince promised "everything will be better," CNN Turk reported.
The broadcaster said the centre-left party's members of parliament all voted unanimously for Ince, who has been a member of the legislative house since 2002.
Ince had previously tried to unseat Kilicdaroglu as the head of the party, but failed to gain enough support among party delegates to replace the chief, who has been in the job for eight years.