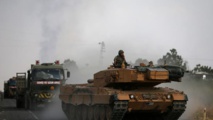 President Recep Tayyip Erdogan held a two-hour emergency security meeting late Thursday to discuss the situation in Idlib.
Turkish Foreign Minister Mevlut Cavusoglu spoke by phone with NATO Secretary General Jens Stoltenberg, Anadolu said.
This marks the single largest death toll in a day of Turkish soldiers in Idlib, which is the last opposition stronghold.
Rami Abdel Rahman, the head of the Syrian Observatory for Human Rights war monitor, told dpa that 34 Turkish soldiers were killed and tens others wounded when warplanes and Syrian government shelling hit their convoy in Jabal al-Zawiya, which is south of the town of Saraqeb.
Turkey-backed Syrian rebels recaptured Saraqeb, a strategic town in Idlib that was taken over by government forces, the observatory said on Thursday.
Saraqeb - located on a highway linking the capital Damascus and the northern province of Aleppo - was retaken after fierce battles between Syrian government forces and rebels backed by Turkish artillery, according to the Britain-based watchdog.
Saraqeb is the second-largest city after Maaret al-Numaan in Idlib.
The National Liberation Front (NLP), which is backed by Turkey, said in a statement that Saraqeb was "completely liberated."
Hours earlier, Erdogan said: "In Idlib, developments have turned to our advantage right now. ... The regime forces have suffered a very big loss. Our struggle there continues."
Syrian government forces and their allied militias had taken over Saraqeb earlier this month as part of a massive military campaign in the region.
In late April, the Syrian government, backed by Russian air power, launched an offensive to seize the region from rebels.
Ankara and Moscow - who support opposing sides in Syria's war - reached a deal in Sochi in 2018 to create a demilitarized zone around Idlib, which shares a border with southern Turkey, and stave off a Syrian offensive.
But even their latest ceasefire reached in January collapsed.
Erdogan has given an end-of-the-month ultimatum for Syrian government forces to stop besieging Turkish observation posts in Idlib.
"Time's almost up," Erdogan said on Wednesday. "We plan to free our besieged observation towers, one way or another, by the end of this month," he said, reiterating a threat to Damascus to retreat.
Several of Ankara's observation posts - set up as part of the agreement with Moscow - are now behind Syrian government lines following gains by its army.
Ankara has been strengthening its posts and sending troops and military hardware into Idlib in the face of Syrian advances.
The most pressing concern for Turkey, which hosts 3.6 million Syrian refugees, is the influx of hundreds of thousands fleeing Idlib to its border.