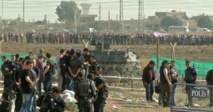 "The 'report' published about anti-terror operations in the southeast is mainly biased, based on false information and far from professional," the Turkish foreign ministry said.
The report details evidence of "massive destruction, killings and numerous other serious human rights violations committed between July 2015 and December 2016 in southeast Turkey".
According to the UN, Turkish government security operations targeted more than 30 towns and displaced 355,000 to half a million people, mostly Kurds.
The foreign ministry said it rejected the "so-called" report published based on "allegations from ill-intentioned circles".
"The space in the report given to a terror organisation's propaganda overlapping with unfounded allegations is not accepted by our side," the ministry added, referring to the outlawed Kurdistan Workers' Party (PKK).
The PKK has waged an insurgency against the Turkish state since 1984 during which over 40,000 people have been killed.
Violence renewed in the southeast region after a truce agreed in 2013 collapsed two years later. The PKK is proscribed as a terrorist organisation by the United States, European Union and Turkey.
The unrest in the region has claimed some 2,000 lives over the last year and half according to statistics given by Ankara to the UN.
The UN said it tried for more than a year to access areas affected by the anti-PKK operations but the ministry said they had invited UN rights chief Zeid Ra'ad Al Hussein many times.
"If Zeid had responded to our invite and come to our country, he would have had the chance to see personally that the claims in the report do not reflect the truth," the Turkish ministry statement added.
The ministry highlighted Turkey's fight against terror, especially after last July's failed coup which tried to overthrow President Recep Tayyip Erdogan.
Ankara has blamed the putsch attempt on Islamic preacher Fethullah Gulen and his movement, which Turkey calls a "terror group".
Gulen -- who lives in self-imposed exile in Pennsylvania -- and the movement deny the accusations and insist they promote charity and moderate Islam.