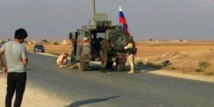 "There have been no violations since the ceasefire went into effect," Akar said Saturday in the border town of Hatay, according to state news agency Anadolu.
"We will continue to be a deterrent force to prevent ceasefire violations," Akar said, accompanied by the chief of staff and land and air force commanders.
He added that Ankara will retaliate in the "harshest" manner against attacks on its military observation posts and troops in Idlib, Syria's last rebel stronghold, near the Turkish border.
Russian President Vladimir Putin and his Turkish counterpart Recep Tayyip Erdogan agreed on Thursday to a ceasefire for Idlib that went into effect at midnight.
Russia and Turkey have also agreed to observe a security corridor along a major highway in Idlib.
A Russian military delegation is expected in Ankara next week, Akar said, adding Turkey started work on planned joint patrols on the security safety corridor along M4 highway.
The joint patrols are planned to start on March 15.
A recent military onslaught by Russia-backed Syrian forces in Idlib had brought Turkey, which backs some rebels, to the brink of open confrontation with Moscow.
The escalation killed at least 50 Turkish troops in February alone. It had displaced 1 million people in Idlib.
Notepad