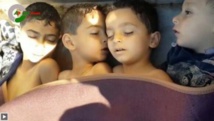 "Since yesterday (Tuesday)... nearly 30 wounded have been brought for treatment," Health Minister Recep Akdag said after the attack on the rebel-held town of Khan Sheikhun in Idlib province.
The Turkish minister added that two people brought to Turkey had died.
"We have evidence suggesting that the attack in Idlib was a chemical attack," Akdag said, without giving further detail.
He added the information was being documented and would be sent to the World Health Organisation.
The wounded were brought from Idlib through Turkey's Cilvegozu border gate for the treatment in the Reyhanli district of Turkey's southern Hatay province.
They were treated by a special team from Turkey's AFAD emergencies agency using special protective gear.
Some 20 children were among the dead after airplanes carrying out strikes released "toxic gas", according to witnesses and a monitoring group.
Hours after the attack, Turkish President Recep Tayyip Erdogan told his Russian counterpart Vladimir Putin by phone that "this kind of inhuman attack was unacceptable".
Erdogan's spokesman Ibrahim Kalin said the incident had been carried out by President Bashar al-Assad's regime, adding it was a "war crime and a crime against humanity."
Russia said a Syrian air strike had hit a "terrorist warehouse".
Turkey has been a major foe of Assad's regime in Syria throughout the Syrian civil war.
But in the last months Ankara has deepened ties with Assad's ally Russia, co-brokering a ceasefire that until now had drastically reduced the levels of violence.
Yet Turkish Foreign Minister Mevlut Cavusoglu strongly criticised US Secretary of State Rex Tillerson for saying the fate of Assad was up to the Syrian people.
"Those who say, 'the people of Syria will decide the fate of Assad' should see that if it continues this way, there will no longer be anyone to make a decision about Assad," Cavusoglu said on Tuesday, quoted by state-run news agency Anadolu.