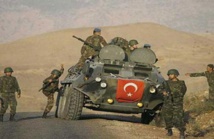 Anadolu said that "heavy artillery fire" had targeted the Democratic Union Party (PYD), the main Syrian-Kurdish party, which dominates in areas across northern Syria.
Turkey says the PYD is linked to the outlawed Kurdistan Workers' Party (PKK), which it considers a terrorist organization.
The artillery fire on Afrin started on Saturday shortly after President Recep Tayyip Erdogan threatened to crush US-backed Kurdish fighters in northern Syria in "less than a week" and called on them to surrender.
Ankara opposes the fact that the Syrian Kurds, backed by the United States in the fight against Islamic State, control territory along the countries' shared border and wants the militia sidelined.
Turkey controls about 2,000 square kilometres in northern Syria following a 2016 cross-border operation, the so-called Euphrates Shield, to tackle Islamic State and counter the Syrian Kurdish militia.