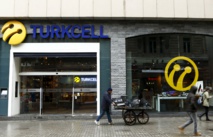 Telia said on Wednesday that it sold its stake in Istanbul-based Turkcell for 530 million dollars to the Turkish fund, citing a years-long shareholder feud and the firm's re-focusing on its core Nordic and Baltic markets.
Turkcell shares traded on the Istanbul stock market were nearly 10-per-cent higher on Thursday morning.
"Today we announce the final piece of the Turkish exit puzzle," Telia said. Turkcell shareholders have for 15 years been stuck in legal gridlock over board representation and other management issues.
Telia first sold its 14-per-cent direct ownership in Turkcell in 2017 and has been seeking to exit fully since then.
The wealth fund said it is becoming the largest shareholder in Turkcell and "gains effective control over the board of directors." The operator's international mobile and fixed telecom business serves more than 47 million customers, the fund said.
Turkey's multibillion-dollar wealth fund, chaired by President Recep Tayyip Erdogan, has stakes in top companies, including Turkish Airlines, state lenders, the Istanbul stock market and railways conglomerate among others.
Notepad