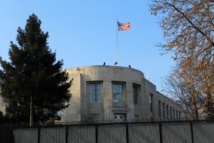 At the same time, Turkey's state-run Anadolu news agency reported security forces had detained 12 alleged members of the Islamic State extremist group and were seeking to capture eight additional suspects, in line with warrants from a prosecutor.
The governor's office said it had received intelligence from US sources on possible terrorist threats and was upping security around the embassy and locations used by US citizens in the Turkish capital.
"Embassy Ankara informs US citizens that the US embassy in Ankara will be closed to the public on March 5, 2018, due to a security threat. The embassy will announce its reopening, once it resumes services," a security alert from the mission said late Sunday.
The capital saw a wave of attacks in 2015 and 2016 in which hundreds were killed.