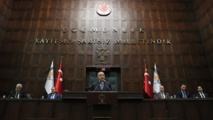 In a country of 82 million, with more than 57 million eligible voters, Erdogan has been on every television screen with each poll event headlined by broadcasters.
Analysts say the elections in 81 provinces for thousands of mayors and local administrators are a referendum on his policies since parliamentary and presidential polls in June, when he promised a "new Turkey."
This time, Erdogan has said Turkey's very survival is at stake, as he referred to rising Islamophobia and showed footage of the mosque shootings in New Zealand at rallies.
"Turkey does not have a survival problem, but the [ruling] alliance has one," said Vahap Coskun, a law professor at Dicle University in Diyarbakir, south-eastern Turkey.
Erdogan's Islamic conservative Justice and Development Party (AKP) is in an alliance with the far-right Nationalist Movement Party (MHP).
The south-east is a stronghold of the pro-Kurdish Peoples' Democratic Party (HDP). But since 2016, the government has replaced dozens of HDP mayors with trustees, claiming they had links to the outlawed Kurdistan Workers' Party (PKK). Some mayors were jailed, others were sacked.
The HDP hopes to win back those posts with new candidates, and observers say nearly 100 seats could be reclaimed from the trustees this time.
"If the HDP wins in Kurdish towns despite Erdogan's use of state and security apparatus, the government will have to ... reconsider its south-east policy," Coskun told dpa.
Voters across Turkey might punish the AKP for the lira crisis that started in August, exacerbated by an economic recession from December. Unemployment is at 13.5 per cent and inflation more than 19.6 per cent.
When food inflation crossed 30 per cent, the government resorted to controlling prices by selling discounted fruits and vegetables in several cities.
Such tactics could appease some voters, said Jakob Suwalski, an analyst at Scope Ratings, but "in the longer run, such acts reduce confidence in local market mechanisms, potentially reducing supply and creating goods shortages."
Erdogan on Friday blamed the fluctuating lira on "an operation by the West, the US in particular, to corner Turkey."
He told a rally in Istanbul: "You see how they attack us. Let them do so. If they have dollars, we have our Allah."
Erdogan is not only the head of state and government, but also of the AKP. If his party fares worse than it did in 2014, this could endanger its alliance with MHP, with which it secured a parliamentary majority last year.
It would also bolster the opposition, which Erdogan has demonized as "terrorists."
Among the keenly observed races are the mayoral elections for the national capital, Ankara, and Istanbul, which have been ruled by Islamic conservatives since 1994.
It would be a blow for Erdogan if the AKP loses in Ankara. The opposition's mayoral candidate, Mansur Yavas, is in the lead, according to several polls.
A defeat in Istanbul would also be a loss of face for Erdogan, who won the mayoral polls there in 1994.