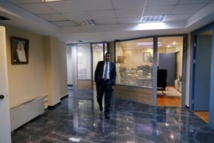 "It's not possible for the Saudi administration to dodge the blame for this crime if it's confirmed," the deputy head of the ruling Justice and Development Party (AKP) said on Thursday, according to state news agency Anadolu.
Numan Kurtulmus said "conclusive evidence and findings" would be shared with the world following the investigation.
Turkey will not allow a cover-up of the killing, Kurtulmus said, calling it "an ugly, dreadful and inhumane case."
Khashoggi, a vocal critic of Saudi Arabia's powerful Crown Prince Mohammed bin Salman, had been missing since October 2, when he entered the consulate to pick up papers so he could marry his Turkish fiancee. The Saudi authorities had insisted that he left the consulate and that they did not know what happened to him.
Early on Saturday, however, Riyadh changed its position to say that Khashoggi died at the Istanbul consulate following a "fist fight," according to the state-run news agency SPA.
"Turkey will reveal whatever happened ... We are not accusing anyone in advance, but we will not accept it if anything remains covered [up]," AKP spokesman Omer Celik said.
Turkish President Recep Tayyip Erdogan and Saudi King Salman emphasized in a phone call late Friday their "full cooperation" in regards to the separately led probes in both countries, Anadolu reported.
The state Saudi news agency SPA, citing an unnamed official, said that 18 Saudi suspects were being questioned over Khashoggi's death.
The Saudi statement did not disclose the location of Khashoggi's body. Earlier media reports had alleged that the body was dismembered.
The Saudi monarch on Saturday ordered the formation of a committee led by the crown prince to restructure the kingdom's intelligence service and "determine its specific powers", SPA reported without elaborating.
At least two of the Saudi officials sacked in connection with Khashoggi's death are known to be close to Crown Prince Mohammed, whose detractors accuse of showing little tolerance for dissent.
Khashoggi had been a columnist for The Washington Post since he went into self-imposed exile in the US last year. His disappearance has been followed carefully in recent days by US President Donald Trump who sent his top diplomat Mike Pompeo to discuss it with Turkish and Saudi leaders.
Trump described the overnight revelations by Saudi Arabia, as well as the reports of arrests and the firing of top intelligence officials, as a "big first step."
In contrast, a senior US Republican, Senator Lindsey Graham, tweeted that "To say that I am skeptical of the new Saudi narrative about Mr. Khashoggi is an understatement."
The United Arab Emirates, Bahrain and Egypt, allies of Riyadh, praised the Saudi steps.
However, an official at the rights group Amnesty International criticized the Saudi announcement, calling it "not trustworthy."
"The investigation findings by the Saudi authorities claiming that Khashoggi died as a result of a 'fist fight' inside the consulate are not trustworthy and marks an abysmal new low to Saudi Arabia's human rights record," said Samah Hadid, the watchdog's Middle East director of campaigns.
"We call on the Saudi Arabian authorities to immediately produce Jamal Khashoggi's body so an autopsy can be performed by independent forensic experts in accordance with international standards," she added in a statement.