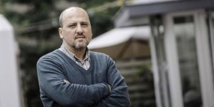 "I guarantee this mafia sultanate will end. ... Then we will rejoice," Sik told supporters.
Sik is one of 18 Cumhuriyet staff and executives currently on trial.
The former chief editor, Can Dundar, lives in exile in Europe after being sentenced to prison for reporting on Turkish weapons shipments to militants in Syria.
Sik is an expert on the movement surrounding the prominent cleric Fethullah Gulen. The journalist's sharply critical book about the Islamic group's rise to positions of power in the Turkish state landed him in jail for a year in 2011, when so-called Gulenists had power in the judiciary.
Today, the government of President Recep Tayyip Erdogan blames the Gulen movement for the 2016 failed military coup, with tens of thousands of alleged supporters jailed.
Sik has been critical of what he describes as the government's former alliance with the movement.
"I left this place [prison] six years ago, again in the month of March. What has changed since that day is that one of the partners of fascism has fallen," Sik said, referring to a post-coup crackdown on the Gulenists.
Cumhuriyet editor-in-chief Murat Sabuncu was also released, but Akin Altay, a top executive, remained behind bars, with the trial to resume next week.
Sabuncu, who spent 495 days in prison, told supporters that Altay was marking his birthday in jail and vowed the paper would "fearlessly" maintain its course.
"Cumhuriyet will continue independent journalism as it has always done," he said.
Sik has also angered the authorities in recent years with reports on Kurdish and leftist militants andthe conflict in Turkey's restive south-east.
Justice Minister Abdulhamit Gul told reporters in Konya on Saturday that Turkey's judiciary is independent and court decisions would be respected.
"The judiciary in Turkey is independent, impartial and Turkey is a state of law. Everyone has to respect the decisions taken by the courts and court decisions are binding for everyone. You may not like, [or] criticize the verdict but decisions are binding," Gul said.