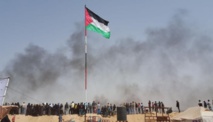 Ashraf al-Qedra, spokesman for the Hamas-controlled Health Ministry, said one killed was a volunteer medic treating demonstrators along the border.
At least 85 Palestinians were injured by Israeli gunfire on Friday and 131 others were hospitalized for other injuries sustained during the protests, al-Qedra said.
The Israeli army said it struck a Hamas position in the northern Gaza Strip "in response to the violent riots along the Gaza Strip security fence."
Hamas has been orchestrating near-weekly protests along the Gaza border since March 30. Since then over 160 Palestinians have been killed in the protests and confrontations with Israeli army.
Israel says that Hamas - considered a terrorist group by the US and much of the West - is using the protests as a mask to attempt attacks on Israeli border communities.
The truce was brokered overnight by Egypt and UN Middle East envoy Nickolay Mladenov, according to Hamas-run al-Aqsa television.
Israel has not confirmed the agreement but a spokesman for Prime Minister Benjamin Netanyahu said earlier Thursday evening that the security cabinet had "instructed the [Israeli Defence Forces] to continue to act with force against perpetrators of terror."
The European Union on Friday condemned the Hamas rocket fire and called for Israel to "exercise restraint" in its response.
"The escalation of violence in recent days has brought Gaza and Israel dangerously close to yet more conflict," the EU said in a statement.