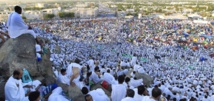 The hajj, one of the five pillars of Islam, is a mandatory duty for all Muslims to make once in a lifetime if they possesses enough financial resources and are physically capable of undertaking the journey to the birthplace of the prophet Mohammed.
It ends for most Muslims on Thursday.
Men don seamless white clothes and women wear loose garments and must refrain from wearing make-up and jewellery. They perform the same rituals in a demonstration of religious unity, equality and pursuit of spiritual renewal.
According to official Saudi figures, more than 750 people died in a hajj stampede during a stone-throwing ritual in the holy town of Mina near Mecca three years ago.