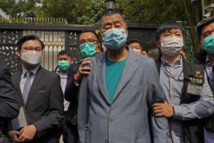 Ted Hui and Lam Cheuk-ting were arrested over their involvement in two protests last year, the Democratic Party said in a Facebook post.
A spokesperson for the group told dpa that Lam had been charged with rioting during a mob attack at Yuen Long subway station in July 2019.
He has also been charged with perverting the course of justice and property damage resulting from the incident.
Hui has been charged for property damage and perverting the course of justice in relation to a small scale protest outside Tuen Mun police station June 6, 2019.
On July 21 last year, during a wave of pro-democracy demonstrations throughout the city, a mob dressed in white t-shirts descended on dozens of black-clad protesters inside Yuen Long train station.
At least 45 people were injured by the gang. Lam sustained an injury to his face during the attack.
While the government condemned the attacks, no arrests where made at the time.
The Democratic Party is the largest and most established pro-democracy party in Hong Kong, holding seven seats and 89 district councillors.
It recently held a primary election campaign, in which 610,000 Hong Kongers voted for candidates to run for seats in the 2020 Legislative Council elections.
The government said the primaries were "illegal" and disqualified 12 candidates from running, including activist Joshua Wong. Weeks later, Chief Executive Carrie Lam postponed the elections for a year, blaming a rise in Covid-19 cases.