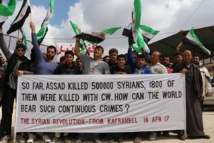 Unknown gunmen shot at Raed al-Fares and Hammoud Juneid near the latter's house, the Syrian Observatory for Human Rights added.
Both were seriously injured and latter died at Idlib's Kfaranbel hospital, according to the Britain-based watchdog.
There was no immediate claim of responsibility.
Al-Fares was a manager of Radio Fresh FM, a broadcaster based in the rebel village of Kafranbel. He was an outspoken critic of the Syrian government, the Islamic State militant group and the al-Qaeda-linked Hayat Tahrir al-Sham (HTS).
Juneid was a caricaturist who used to work with al-Fares.
Al-Fares was previously attacked by militants, who also forced him to stop airing women's voices as well as music on his radio station allegedly for being forbidden in Islam.
He told dpa in a previous interview that in order to keep broadcasting women's voices on the radio, he distorted their voices to sound like robots, while he replaced the morning music with bird singing.
In recent months, rebel areas in northern Syria have witnessed a wave of killings.
At least 395 people have been killed in car bombs or shootings since April in the countryside of Idlib and the neighbouring provinces of Hama and Aleppo, Observatory head Rami Abdel-Rahman said.
Idlib, the last key opposition bastion in Syria, is mainly controlled by HTS.