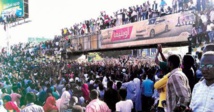 Several other protesters were injured when security forces tried to break-up the peaceful demonstration in front of the army headquarters in the capital Khartoum early on Tuesday, the Central Committee of Sudanese Doctors said in a statement.
On Monday, Interior Minister Bushara Aror had said seven people were killed and 2,496 arrested during anti-government protests over the weekend.
Aror told parliament that 15 civilians had also been injured, as well as 42 members of the security forces, according to state-run news agency SUNA.
The sit-in began after the Sudanese Professional Association (SPA) called for widespread rallies and a march on the army headquarters on Saturday, the 34th anniversary of the 1985 uprising that toppled the then-government of president Gaafar Nimeiry.
The military removed Nimeiry before handing over power to an elected government, which in turn was overthrown by al-Bashir in a coup in 1989.
The East African nation has seen ongoing protests since December 2018, when a sharp hike in bread and fuel prices caused a public outcry.
The oil-rich country's economy was badly affected when it split with South Sudan in 2011, and the government is currently facing an economic crisis while also battling several rebel groups.