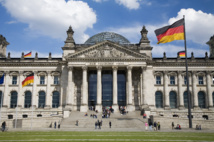 There has been plenty of talk on how teams have to behave themselves in the Bundesliga restart concept but what about the referees?
Match officials appeared to have been somewhat overlooked and Kicker sports magazine has reported that none of them were tested for coronavirus so far.
This has however changed now ahead of the May 16 restart for the 26 Bundesliga and 22 second-division referees.
"Of course there will also be hygiene and medical demands on the referees, assistants and fourth officials," German Football League (DFL) head Christian Seifert said on Thursday.
The DFL has published the concept for the match officials in which each official will be tested twice before the restart, and then on the eve of each of their following matches.
And the so-called Cologne cellar, where the video assistant referees will make their calls, is to be redesigned to meet social distancing requirements.
"It is a very unusual situation for the referees as well, which can only be dealt with if everyone is disciplined and acts in an exemplary manner. Panning will also require a lot of flexibility and patience," German Football Federation (DFB) referee's chief Lutz Michael Froehlich said.
The DFB has said that match officials would go straight into a 14-day self-isolation if they test positive, just like players.
Referee appointments are only announced on matchday and not in advance. The DFB also allows referees to officiate in their own region but matches in their hometown remain off limits.
Officiating matches behind closed doors will be a big challenge for the referees and their teams.
Deniz Aytekin, the referee of the Moenchengladbach v Cologne game without fans in March, said "it was very, very difficult to concentrate for the whole time" and expressed hope that fans would be allowed back as soon as possible.
But Daniel Siebert, who like Aytekin officiates in Germany and internationally, and also has experience with games behind closed doors, has a different view.
"It is different but it is easier," he said. "You hear the contact, shin to shin or sole to sole. This produces very specific sounds. And as a referee, I have a trained ear for which contact is against the rules and which is still within the limits of a fair tackle."
Referees will meanwhile also be looking forward to matches again because they have lost money during the suspension. There are no true professional referees in the country.
Bundesliga referees get an expense allowance of 5,000 euros (5,400 dollars) per match, and even more money is lost for those on European duty or selected for the Euro 2020 tournament now postponed until 2021.
The DFB is seemingly so far not compensating referees for the income they have lost but match officials also get a fixed sum per season in the five-digit area, up to some 80,000 euros for a FIFA referee.
"In the professional field a large part of the income is lost," said DFB vice-president Ronny Zimmermann, who is responsible for referees.