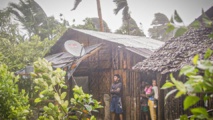 Vongfong, which slammed into the country's eastern provinces as a typhoon, has weakened to a severe tropical storm with maximum sustained winds of 110 kilometres per hour (kph) and gusts of up to 150 kph, the weather bureau said.
More than 91,000 people have been forced to flee their homes as Vongfong brought destructive winds and heavy rain, cutting off power, uprooting trees and blowing off rooftops.
Crops, houses and public infrastructure were also damaged, local officials said.
The evacuations were ordered despite restrictions ordering people to stay in their homes to contain the spread of Covid-19, the respiratory illness caused by the coronavirus.
Mark Timbal, a spokesman for the national disaster risk reduction office, said emergency teams were being reminded to follow physical distancing and infection prevention measures.
Authorities now only allow up to three families in one room, and they "know each other so that they can be assured that no one is sick," Tombal said.
Vongfong was the first typhoon to hit the Philippines this year. The country is battered by an average of 20 tropical cyclones every year.
One of the strongest in recent memory, Typhoon Haiyan, hit the country in November 2013, killing more than 6,300 people and displacing more than 4 million.