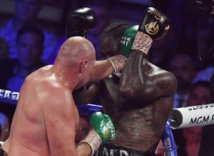 "He is a warrior. He will be back. He will be champion again. But I will say, the king has returned to the top of the throne!"
Fury found the finishing flurry in round seven by backing Wilder into a corner and barraged his opponent until referee Kenny Bayless stepped in to stop the fight as the towel came in from Wilder's team.
Wilder was taken to a hospital afterwards as a precaution as he sustained a cut inside his right ear, which may have damaged his eardrum.
"Even the greatest have lost and came back, that is just part of it," said Wilder in the ring. "The best man won tonight, but my corner threw in the towel and I was ready to go out on my shield."
Wilder could get another chance in a contractual third fight that was signed as part of the rematch, and his promotional team have 30 days to invoke that clause.
The win brings Fury's unbeaten record up to 31 wins and makes him a champion for the second time after dethroning Wladimir Klitschko for the IBF, WBA and WBO titles in 2015.
Never before had the MGM Grand Garden Arena witnessed a higher gate for a heavyweight title fight than this one as it grossed 16.9 million dollars - a record, according to Fury's promoter Frank Warren.
It has been a long road back to the ring for Fury after battling mental health issues and drug abuse during a three-year break, which saw him stripped of the three titles he won from Klitschko.
Eighteen months have passed since Wilder and Fury had their first encounter in Los Angeles - one that ended with Fury rising off the canvas twice, and from a seemingly unconscious state in round 12, to fight to a controversial draw.
The sequel to their epic rivalry began with Fury on the front foot in the opening round pushing Wilder back with his jab and lunging forward with a series of left-right combinations as chants of "there's only one Tyson Fury" echoed from the crowd in support.
Fury, who predicted he would dismiss Wilder in two rounds, tagged his rival with a pair of left hooks, and even though Wilder survived Fury's attack, it was clearly a bad start to the champion's 11th title defence - a mark he shares with the legendary Muhammad Ali.
Wilder, who has been used to knocking his opponents to the floor for his entire career with 41 knockout wins, hit the canvas for the first time when Fury crunched his nose with a jab and then followed through with a right that caught the top of his head and sent him tumbling.
Wilder was down for a second time in that round, but referee Bayless ruled it was a slip.
Fury sensed that the fearsome puncher Wilder was fading and took the fight into close quarters in the fifth and floored Wilder again with two shots to the head and a final blow to the body before Wilder sat on the seat of his pants.
By the sixth round, 15,816 fans in attendance were witnessing a new style from Fury – a more aggressive come-forward stance.
He finished the fight with relentless malice, unlike the patient boxing tactics he used to dethrone Klitschko in his first three-belt coronation five years ago.
The days of drugs, depression and excessive weight gain were clearly long gone in round seven of his rematch with Wilder, as a final flurry of ferocious punches allowed him to return to the top of the heavyweight division.