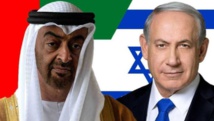 The Emirates company APEX National Investment announced the accord with Israeli TeraGroup to develop research and studies on the novel coronavirus, the state UAE news agency WAM reported on Sunday.
The agreement was signed by APEX head, Khalifa Yousef Khouri, and Oren Sadiv, the TeraGroup chief executive, in the UAE capital Abu Dhabi, according to WAM.
"We are delighted with this cooperation with TeraGroup, which is considered the first business to inaugurate trade, economy and effective partnerships between the Emirati and Israeli business sectors," he said, according to WAM.
The deal "will benefit everyone economically, specifically in these exceptional circumstances with the spread of the novel coronavirus," Sadiv said.
On Thursday, the UAE and Israel announced a US-brokered agreement to normalize diplomatic ties in return for Israel suspending a controversial plan to annex parts of the occupied West Bank.
The deal makes the UAE the third Arab country after Egypt and Jordan to have diplomatic links with Israel.
Notepad